Window Signs & Graphics
Whatever the kind of business you may be running, you can use your front windows to communicate your potential clients your most important messages to draw them inside.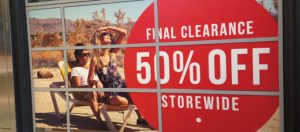 High-quality, professional window signs and vinyl graphics are an effective and inexpensive way to promote your special products or services, to inform your clients on your offer, or to secure the privacy of people inside your building. Focus Signs & Graphics is a trustworthy provider of vinyl window graphics who creates impactful and effective window clings and displays featuring graphics that make your business stand apart from the crowd.
Call Focus Signs & Graphics today at (714) 364-8584 for your Free Consultation with Window Signs Specialist!
Window Signs for All Businesses
Focus Signs & Graphics has the skills and the technology needed to create the best window signs and graphics for your business. Our experienced designers will help you create the right materials to support your business goals, while matching your brand identity.
The following materials are part of our offer:
Full-Color Window Posters
Sale/Promotional Banners
Vinyl Window Clings
Vinyl Privacy Film
Vinyl Window Lettering
Vinyl Window Graphics
& More!




Are you trying to figure out what vinyl product to choose for getting your message out to the world? We are happy to meet you to discuss your needs and your marketing goals. This free consultation will help our specialists to become familiar with your brand and with your business. Based on this information, they will recommend the right vinyl solutions for your location, budget and business goals.
Window Signs for Retail Stores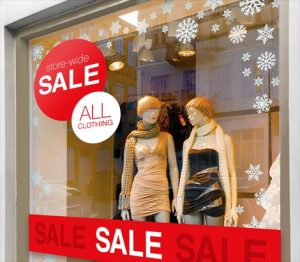 Retail stores use their window displays for promotional purposes, and they are right to do so! An attractive window display can draw people inside your store. If you have a product you want to promote, this is the most effective way of doing it.
Most often than not, window displays are regularly updated to advertise the newest and the most attractive products you have to offer. We can create eye-catching and effective window signs and banners to promote your special events, products or services in a professional manner.
Privacy Window Vinyl For Offices
Many businesses choose to use privacy film for the exterior windows of their office buildings. We have a high-quality privacy film that replicates frosted glass, but costs only a fraction of the real thing.
Some business owners choose to use this privacy film to display the name or the logo of their business. We can design a custom privacy film to match the identity of your business. If you don't need this type of branding, we can show you the top vinyl film materials we have in stock.
Window Signs for Service Providers
The fact that you don't have retail products to offer doesn't mean you can't benefit from an attractive window display! Use this free space to publicize your most profitable services and your special offers. Use your hallways to display your brand values, with the help of eye-catching wall murals. Our professional sign designers will develop the custom graphics you need to create a stylish appearance. Our full-service agency will also assist you with the production and the installation of your vinyl materials.
Free Window Sign Consultation
We are ready to assist you with all steps of your project, in order for you to attract more customers or to enjoy the privacy level you desire. We create high-quality, impactful window signs, displays, or any other type of vinyl graphics and materials. Whatever your needs, Focus Signs & Graphics has the right solution to make your business windows compelling and unique!
Call Focus Signs & Graphics today at (714) 364-8584 for your Free Consultation with Window Signs Specialist!