Dimensional Letters
View Sign Gallery
Impactful, captivating, and irresistible, dimensional letters, graphics, and signs are a very good option for almost any business that prefers to leave a great initial impact.
Dimensional letters, often times referred to as 3D or raised letters, are text or shapes accomplishing interest and depth. Relatively easy to produce, these signs are fabricated, molded, cast, or cut from solid material to obtain this effect.
Dimensional signs offer the attractive solution that smart company owners desire for their brand: high visibility, longevity, and a professional, eye-catching feel.
Focus Signs & Graphics can confirm that custom dimensional signs are a good solution for virtually any brand. It doesn't matter if you run a large corporation, government building, hospital, hotel, warehouse facility, small business, etc., our dimensional letters look great on and inside your facility.
Our custom produced raised lettering is specifically developed to be highly visible and also extend your promotional reach. Focus Signs & Graphics crafts custom signage using the perfect supplies out there so after our professional installation of your dimensional lettering, they will keep building excitement around your business and brand for several years to come.
Call Focus Signs & Graphics today at (714) 364-8584 for your Free Consultation!
Appealing Storefront Signage
Given their eye-catching appeal, dimensional signs are an excellent choice as your primary storefront sign. They generate dimension, texture, and depth to your storefront, generating an attractive and professional vibe. The versatility dimensional letters have is also positive. While commonly built on to your business facility, they can also be effectively added with message boards, pole signs, and monument signs. Channel letters are a replacement to dimensional letters.
Though 3D letters are not lighted from within, Focus Signs & Graphics can include outline lighting, spotlights, or lighting fixtures during your sign install, so that your dimensional signs are easily spotted even during the evening. Our custom dimensional letters make sure what you have to offer stands out and your unique branding message makes a big impact, professionally and consistently.
Attractive Indoor Lettering
Dimensional letters aren't just only for your business exterior; furthermore, they supply the inside of your business a polished ambiance as office signs. When placed into your business reception area, your custom branding is likely to be the top element your visitors perceive the first moment they step into your location. Dimensional logo and lobby signs are very versatile, and they can be fabricated from many different materials and mediums, with upgrades such as lighting or other elements, if wanted. Dimensional letters can also be used as wayfinding signage and as other custom signs and graphics to produce a significant impact for retail stores and convenience stores.
Regardless of the name, 3D letters are not confined to just letters! Your custom signs can contain images, logos, numbers, or a combination of any elements you desire applied to your indoor business walls. Focus Signs & Graphics's team of talented designers can help put together indoor signs individualized to the personal identity and style of your organization. If you desire a unique 3-d look that truly helps get your branding noticed, Focus Signs & Graphics delivers dimensional lettering and signage that best communicate the values of your brand.
Durable Dimensional Letters
Focus Signs & Graphics develops dimensional lettering from lots of materials and mediums to best suit your business and brand. Depending on your design, we will choose from plastic, light foam, wood, and/or metal as the key material for your project.
An increasingly popular sign material, plastic is known as being incredibly versatile and includes PVC, coroplast, vinyl, and polycarbonate. The hardiness and resilience of plastic letters causes it to be a strong material choice for outdoor dimensional signage and lettering. For indoor letters, metal is an outstanding solution due to its sophisticated appearance, and it is equally durable when placed outside. Common metals used for sign making include copper, brass, stainless steel, bronze, and aluminum. A popular choice for eye-catching, large-format letters, light foam may be picked due to the fact that it is sturdy, durable, thick, and lightweight. Our experts are able to help you choose the most appropriate sign type and materials and mediums to realize your preferred finished look without overstretching your budget allowed.
Full-Service Sign Company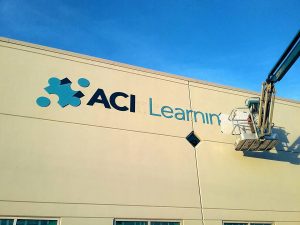 Selecting the perfect sign for your brand and business isn't easy. You will require patience, time, experience, research, and a tried-and-tested sign manufacturing process. When you trust your business signage with Focus Signs & Graphics, you will not go through this all by yourself. Our team of expert sign and graphic artists and sign manufacturers are pleased to share their ability to guide you through the sign manufacturing process.
Focus Signs & Graphics is your trusted local signage supplier. Our experts develop custom signage designs, we guide you in deciding on the best fabrication media for your purpose and budget, and we make certain that your signage and lettering is smartly positioned. We are always only a call away if you are looking for any assistance with your letters.
Free Dimensional Letters Consultation
Focus Signs & Graphics offers practically endless customization options for your brand building signage. No matter whether you want to tempt more potential clients inside your location, boost your brand name, or make your space more intuitive to navigate, our dimensional letters, logos, and images will suit your needs perfectly.
Call Focus Signs & Graphics today at (714) 364-8584 for your Free Consultation with a Dimensional Letters Expert!