Custom Vinyl Wall Murals
Focus Signs & Graphics is the go-to company if you want to have attractive as well as high-quality wall murals.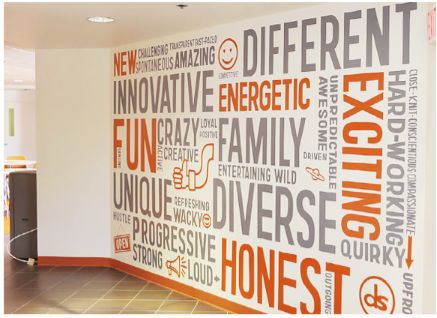 Wall murals are the best way to turn any long empty spaces on a wall into attractive and interesting places. Murals can be used to display the logo of a business company or to tell the history of the company.
Our company designs and manufactures the best wall murals for all types of needs. You can call us if you need us to do the job no matter the size, design, shape or placement that you want your wall mural to have. We even install wall murals for break rooms as well as bathrooms. Our staff has plenty of experience and is skilled in giving our clients what they require.
Call Focus Signs & Graphics at (714) 364-8584 for a Free Consultation with a Wall Mural Specialist!
Complete Design Control
Focus Signs & Graphics works towards creating wall murals that are specific to your business or brand. We make sure that the mural is suitable for the amount of space you have. Our products are made of high-quality vinyl, which makes them durable. We can create any design that you want for the mural, from large breathtaking murals to wall-story murals.
In case you want a mural changed because you feel that it has become too old, if you want to change it to fit the season or if you feel it is monotonous, you can call us. We will remove the old mural and have the wall back to a plain one or install a new mural. The decision will be in your hands.
Full-Service Wall Vinyl Company
If you want our designers to install a mural from a specific design that you have in mind, this is possible. You can contact us and give us the idea that you have and we will bring it to reality. If you have no idea what is best for the space that you have, we can also help with that. We will provide you with options for wall mural designs that fit your business or company and you can choose the one you like best. Furthermore, we provide an on-site evaluation in case you are not sure that the space you have will fit the mural design that you want.
Focus Signs & Graphics uses only the very best quality of materials for the job. The final product is attractive and durable. We have many options for wall mural finishes. These range from high-gloss finishes to matte ones.
Professional Vinyl Mural Installers
You can choose to have our installers do the job for you or you can do a self-installation. We recommend getting the professionals to do the job so as to ensure a smooth finish and an attractive mural for your space. Our installers have the experience and skills to carry out the job. We can guarantee that any damage caused to the vinyl during the installation by our staff will be repaired at no extra cost to you. However, if you have chosen to install the mural yourself, we cannot offer the same guarantee.
Free Wall Mural Consultation
We at Focus Signs & Graphics are dedicated to providing you with the best results. We will work hard to ensure your mural is attractive.
Call Focus Signs & Graphics at (714) 364-8584 for a Free Consultation with a Wall Mural Expert!